At the helm of Adventure Pedlars are Pete & Alice McNeil. Back in 2012, Pete & Alice set out from the Peak District on a 'honeymoon bike ride'. Two years, 22 countries and 20,000km later they showed up in New Zealand with a fresh perspective on love, life, riding bikes, sleeping outside, talking to strangers and pretty much everything that happens in The Places in Between destinations.
On returning home in 2015, convinced that the simple pleasures of a bicycle adventure can provide anyone with the perfect antidote to modern living, 'Adventure Pedlars' was born as a way of inspiring and helping others to get out on their own two wheeled adventures and, by doing so, re-engage in the most basic of ways with the world around us and our own minds within. On top of their extensive adventure cycling experience, Pete and Alice also bring their own highly unique personal and professional backgrounds into making Adventure Pedlars what it is today:
Pete McNeil
Pete is a Bike Adventurer, Racer, qualified Guide and Expedition Leader of unparalleled experience…
With over16 years of working in the Outdoors, beginning with a degree in Outdoor Studies in the Lake District (where he and Alice met), Pete has held an SMBLA Mountain Bike Leader Award since 2008 and has worked as a full-time bike guide & mechanic in the UK, Spain, Nepal and NZ . As an expedition leader he has worked with youth groups all over the world and since being inspired to get out on his own cycling adventures at the tender age of twelve (way before 'bikepacking' was ever a thing..) he has embarked on countless ambitious personal challenges and expeditions in a vast array of environments; from Scotland to Nepal, Lesotho to Patagonia. In recent years he has also been one of the UK's most successful self-supported racers, finishing at the pointy end of some of the world's toughest off-road bike races; including both the HT550 and Silk Road Mountain Race.
Pete has an infectious enthusiasm for getting out and having adventures, whether big or small, and even more so for inspiring and facilitating others to do the same. He achieves this through public speaking events, facilitating workshops, writing, film-making, guiding and coaching courses. Pete's approach couples his extensive experience, knowledge and skill-set with a down-to-earth pragmatism and humility; firmly believing that the best way to inspire others through adventure (and perhaps in doing so helping to address some of the world's more fundamental problems) is not in over-dramatising tales of 'daring do' but in presenting challenges, achievable to all, that inspire a first step into a lifetime of adventure.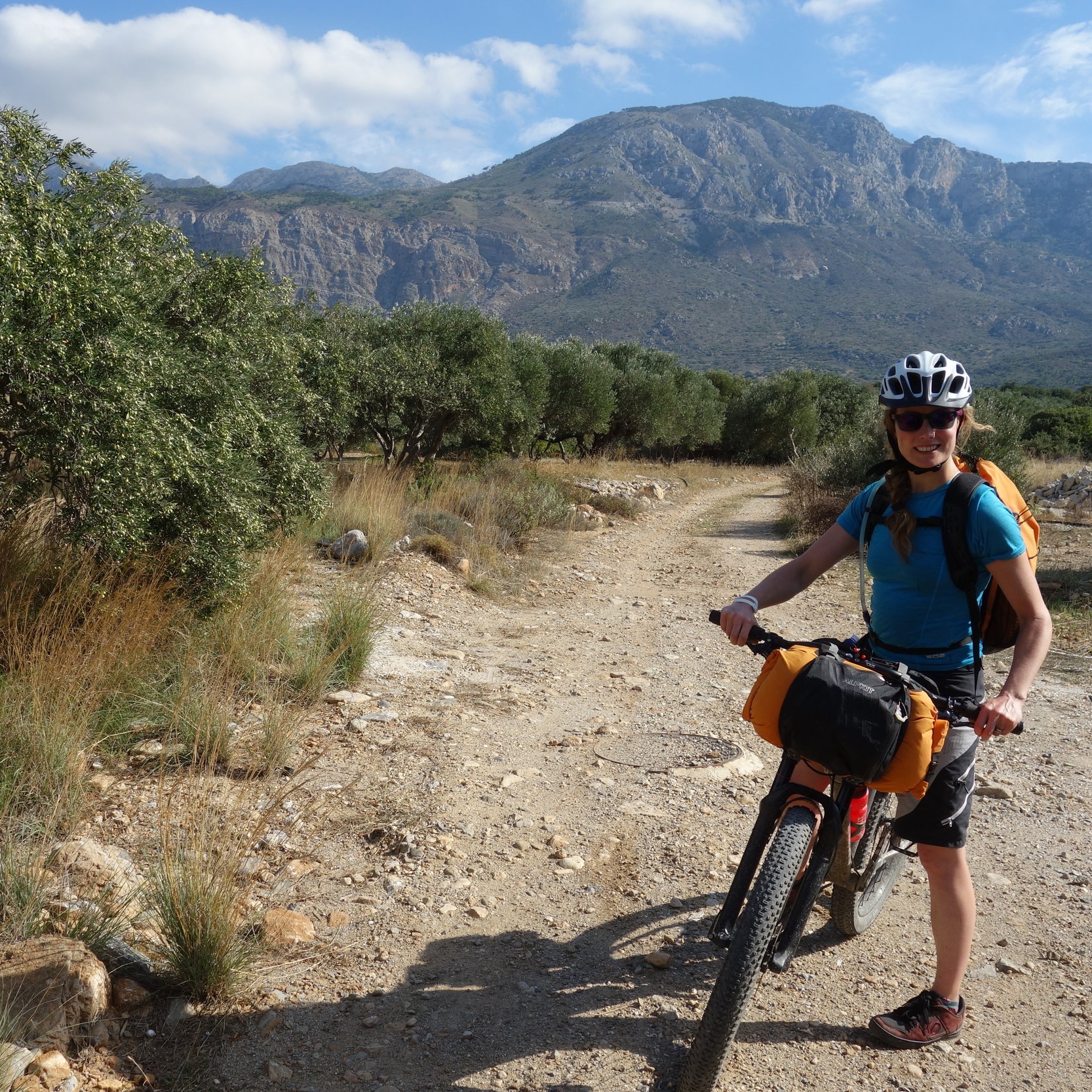 Alice is a Registered Yoga Teacher, Chartered Physiotherapist and Mindfulness Teacher with a background in Outdoor Learning and a love of adventure…
After sustaining a serious back injury in the remote Pamir Mountains of Tajikistan and then rehabilitating herself to continue with her bike ride on towards NZ she realised that physical health cannot exist without psychological health along with the help of the natural environment. Always curious and always exploring she realised that in-fact none of these areas stand alone and (not being content to just stick to her own hunches and experience) she formally achieved an array of academic qualifications to support her work.
With an MSc in both Psychology and Physiotherapy and a BA Hons in Outdoor Studies, she combines all of these highly complementary disciplines as she invites you to explore your physical and psychological capabilities both on and off the bike and the yoga mat through our Breathe Escapes; unpacking the profound sense of wellbeing that we all gain through adventure, physical exercise and the outdoors.
Alice has a natural propensity to combine disciplines in both 'eastern knowledge' and 'western evidence'. She wrote her Psychology thesis on the Restorative Effects of the Natural Environment, and her Physiotherapy thesis on the effectiveness of Mindfulness on Chronic Pain. Under her own company Hope Yoga Physio she runs various yoga classes including 'Yoga for Adventure Sports' at Alpkit Hathersage, designs bespoke yoga programmes for people as part of their injury prevention/rehabilitation and is guest yoga teacher at a number of Adventure and Cycling festivals around the UK.
Helping to provide the theoretical and spiritual underpinning of what Adventure Pedlars aims to achieve, Alice adds a rare and unique depth of knowledge and experience to what we do.